Now there is a pharmaceutical-free way to enhance your sports performance!
The DAVID Delight Pro is a portable hand-held device that provides a unique fusion of Audio-Visual Entrainment (AVE) and Cranio-Electro Stimulation (CES) to help you achieve peak mental and physical performance, get a better sleep, and increase energy levels.
A positive, healthy mind state can give a competitive athlete the edge needed for an outstanding performance. Thoughts of doubt, stress and concerns about failure during competition in an athlete's mind can have a devastating effect on performance. It is because of these thoughts that athletes perform well during training and practices but buckle under the pressure of competition. Why do athletes experience this performance anxiety? Why doesn't years of training instill the confidence and control needed to achieve excellence?
Negative thoughts not only impair athletes striving to perform their best, but they also reduce serotonin levels in the brain. A high level of serotonin is directly linked to superior job performance and leadership ability.
AVE devices can be very effective in training an athlete to learn to stay focused and control their level of arousal during sporting events. Using AVE with visualization is a good way to achieve this.
The Delight Pro features five distinct categories of sessions: Energize, Meditate, Brain Booster, Sleep and Feeling Better, with five selections for each category. It also includes five auto playing Sound Sync Sessions and five locations for you to store sessions you design with the DAVID Session Editor. Also includes popular 100 Hz CES with any session.
Our sessions have been thoroughly tested and are designed based on most current research findings to ensure you the most effective results. The sessions on the Delight Pro are supported by research studies. The Delight Pro sessions also include our proprietary randomization process, which helps encourage dissociation and enhance the entrainment process.
The Delight Pro features larger easy-to-read, easy-to-operate buttons which allow users to select a session very easily. The Delight Pro session category buttons are lit to allow the user to see them in the dark.
Mind Alive Inc. has been designing and manufacturing mind enhancement products for 30 years, and has conducted extensive research in that time, continually revealing new applications for this ground breaking technology.
Click here for research by Dave Siever on AVE and Sports Enhancement.

Read testimonials from Mind Alive customers who have used devices for sports performance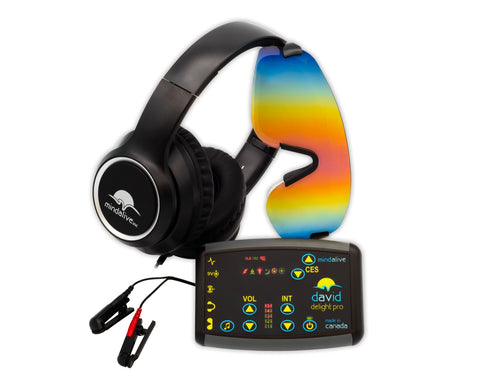 Details