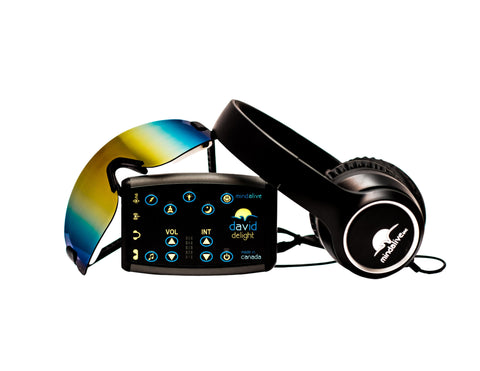 DAVID Delight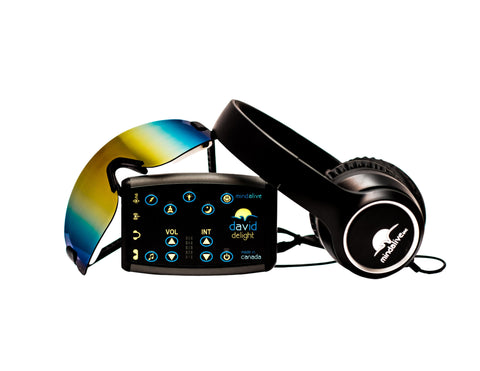 Description
Includes
Support
The DAVID Delight is an innovative portable hand-held device that offers a non-pharmaceutical approach to wellness using Audio-Visual Entrainment (AVE) technology. By using flashing lights and pulsing tones, the Delight provides a non-invasive way to achieve peak mental and physical well-being.
Research shows that AVE can effectively and quickly dissociate, guide the brain into various brainwave states, increase neurotransmitter production, and increase cerebral blood flow.
The Delight features easy-to-read and easy-to-operate buttons.
The Delight sessions are supported by the most current research studies in the areas of stress reduction, insomnia, improved mood, mental sharpness and balance (reduced risk of falling) in seniors, and reduced worry, Seasonal Affective Disorder, improvements in concentration and memory in college students. The Delight sessions also include our proprietary randomization process, which helps encourage dissociation and brain frequency tracking to the stimulus, to ensure you the best results.
The Delight features 10 sessions (two sessions in each of the following categories):
Energize
Meditate
Brain Booster
Sleep
Feeling Better
Audio-Visual Entrainment (AVE) is a technique that utilizes pulses of light and sound at specific frequencies to gently and safely guide the brain into various brain wave patterns. By altering your brain wave frequencies, you have the ability to boost your mood, improve sleep patterns, sharpen your mind, and increase your level of relaxation, all with the simple push of a button! AVE also increases brain health by increasing cerebral blood flow and stimulating beneficial neurotransmitters, such as serotonin, norepinephrine, and endorphins.
Large Carry Bag
Tru-Vu Omniscreen Eyeset and Cable
Eyeset Carry Case
Stereo Headphones
AC Adapter
9 Volt Alkaline Battery - excluding Japan and Australia
Operator's Manual